Why advertise with KIX 101.1? Here are a few reasons!
KIX 101.1 is immensely popular – approximately 50,000 people tune in every week! KIX listeners = $pending Power!
100,000 watt signal covers 25 counties
Outstanding personalities

Brandon Lewis on the Morning KIX Start
Doris Day in the Mid-Day
Jonathan Knight on the Drive Home
The Big Time with Whitney Allen
After Midnite with Cody Alan

Cyclone Football & Basketball
NASCAR Cup Series Racing
Outstanding support personnel

A creative copy department
Excellent production values
Strong & creative promotions department
A sales department that is committed to serving you and to your success

RESULTS!

Ratings, creativity, and production mean nothing if the advertiser doesn't get the results they need and expect. KIX 101.1 is committed to providing solutions to your marketing problems!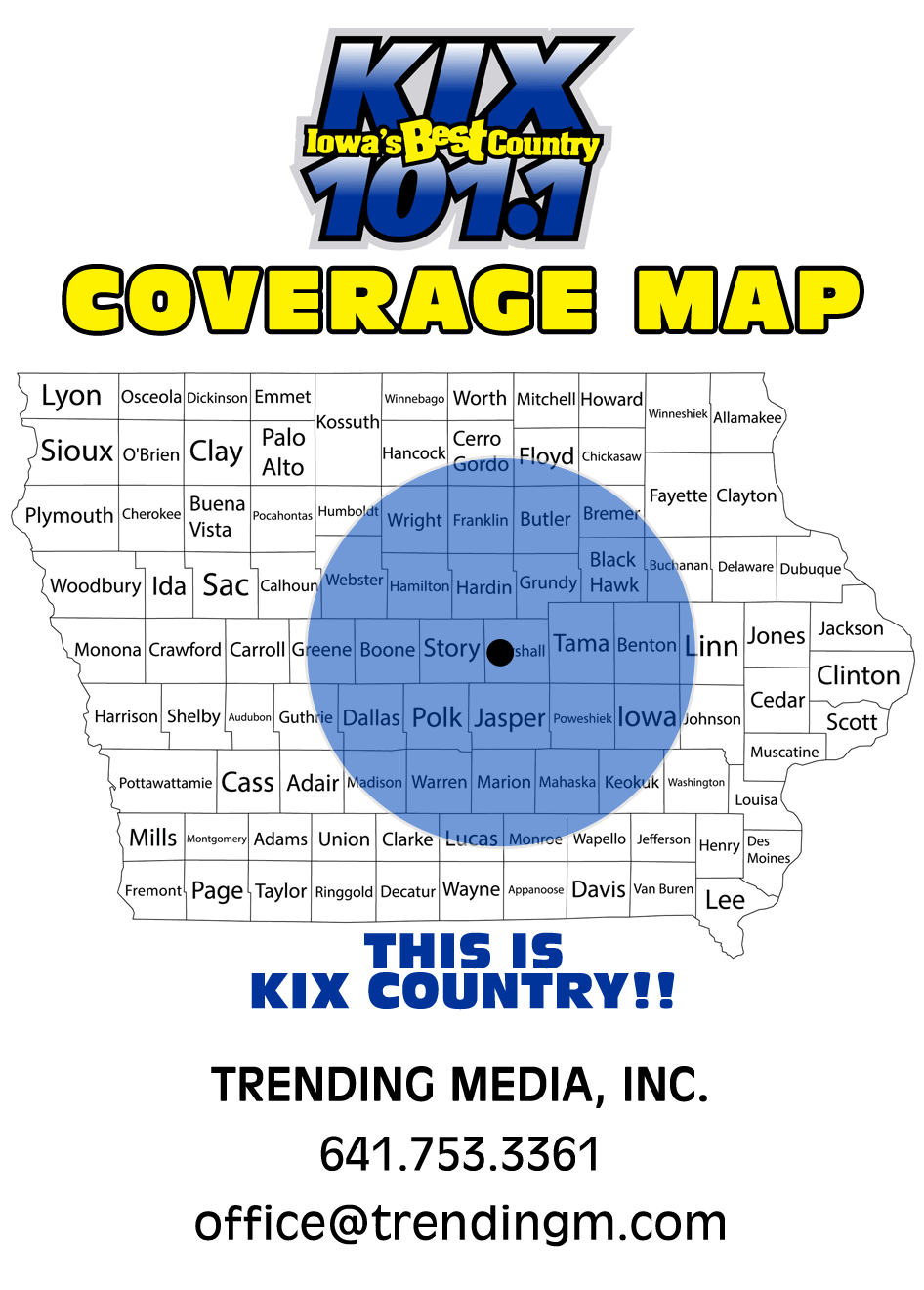 Ads On AM/FM Radio Most Likely To Hold Attention, New Research Shows.
It's official: advertising on AM/FM radio passes the sticky test.
The results of a MARU/Matchbox study conducted last October in conjunction with Canada's Signal Hill Insights show that ads on over-the-air AM/FM radio stations are least likely to be tuned out or avoided by consumers, with just over a third saying they never do so, or do so less than half the time. Based on the results of the survey taken among more than 1,500 people in the U.S. age 13 or over, that's the highest level of attentiveness for any medium, with streamed AM/FM stations also among the four stickiest, along with print and podcasts.
" Of all media, AM/FM radio ads are number one for being noticed and holding attention," Pierre Bouvard says in the latest edition of Westwood One's "Everyone's Listening" blog, explaining why these ads show a higher attentiveness level than those on free online streaming services such as Pandora and Spotify, which are "background music at home, while AM/FM radio is consumed out of the home while consumers are commuting, shopping and working. Listeners say AM/FM radio is more audible than Pandora and Spotify: 30% more say they 'can hear what people are talking about' listening on AM/FM radio vs. Pandora and Spotify. More foreground and more engaged."
Also notable in these results is that consumers are far more likely to skip ads on social media and digital platforms such as pop-ups and online video, which runs counter to what media agencies and brands thought, based on a Cumulus-commissioned Advertiser Perception study of 300 of them in December, where six in ten thought consumers concentrate a lot on social media. "Traditional media impressions are worth more than digital impressions," Bouvard says. "Linear TV, print, and audio enjoy much stronger attentiveness than digital platforms. Consumers notice ads in traditional media more and skip ads less."
Additional research from Signal Hill asked Canadian listeners about the key benefits of each type of audio, comparing AM/FM to streaming services, podcasts and owned music, which also show the benefits of radio ads. "Advertising works so much better in AM/FM radio and podcasts because consumers use them to learn, to be connected, and to get information," Bouvard says.
Radio, The Original Social Media, Reaches Consumers Facebook Doesn't.
Facebook is increasingly becoming a place for fair-weather friends, especially among younger users of social media. This is good news for AM/FM radio, which still reaches that younger demo and can give advertisers on Facebook that extra exposure, according to research presented in Westwood One's latest "Everyone's Listening" blog.
"All of Facebook's audience erosion is coming from young demos, persons 12-34, who are horrified that their grandparents are the fastest-growing audience segment on the platform," Cumulus Media Chief Insights Officer Pierre Bouvard says, citing figures from Edison Research showing a 9% decline in users 12+, driven by a 28% fall in 12-34s while users in the 55+ segment are up +16%.
At the same time, Nielsen Scarborough shows AM/FM radio reaches 56% more persons 18+, 47% more 18-34s and 43% more 25-54s than Facebook, and an even greater percentage more of each of those demos than other social media sites.
So how can radio come to the rescue of Facebook advertisers looking to grab those lost users? Cumulus's Bouvard points to an Interactive Advertising Bureau (IAB) study showing AM/FM radio ads have a greater level of engagement than social media, which had the lowest level of consumer concentration. Additionally, ads are exposed more frequently on AM/FM than Facebook, given the average daily time spent among persons 25-54 is 1 hour and 22 minutes, twice that of social media (40 minutes), according to Nielsen.
For the last few years we've spent hundreds of dollars with website fees, updated & other online advertising with little to no feedback. We teamed up with KIX 101.1 & the feedback started almost immediately with new customers stopping in to say Hi & to see our new shop after hearing about us on the radio!Advertising on KIX 101.1 has opened new doors.​
Thank you, thank you, thank you to KIX 101.1 for helping to promote our blood drive! The results were absolutely crazy. I honestly don't think I've ever seen a blood drive come in so far over projection in my five years with LifeServe!v KIX 101.1 really helped boost our blood supply at a historically slow time of year. Plus: following the blood drive none of our blood types were in the critical need stage because of KIX 101.1's help! It's been months since we weren't in the red.
Running a rural nursing home can be a struggle when wanting families to consider your home for their loved one or finding qualified staff! After trying several avenues, and not having much luck, we decided to try advertising on KIX 101.1. I have different people in our community telling me they hear our ads all the time! We have had an influx in our resident numbers and we have potential staff tell us they heard of the employment opportunity on KIX 101.1. It's been a great resource for us here at Oakview!
KIX 101.1 has been a great advertising tool for us. We like their format and reach and we have seen a response in sales. Their customer service is excellent. They are concerned about our business and don't push, but offer innovative new ideas to expand our business!
When it comes to marketing at North Grand Mall, we utilize Iowa's Best Country, KIX 101.1. They don't just sell "packages", they listen to our needs and help build a marketing plan that brings us the results we expect.
We have been advertising with KXIA for 10 plus years and have had great success. Everyone is incredibly easy to work with. The focus is always on driving more customers our way rather than simply looking to sell more ad time. I would highly recommend talking to the folks at KXIA.
KIX 101.1 advertising is making a difference in our recruitment efforts at the Iowa Veterans Home. With their far reaching audience both in and outside of Marshall County we have been able to get our message out to more potential applicants. We are very pleased to have this effective partnership. Thanks KIX 101.1!
Thank you for the great ad! It paid for itself. Great marketing tool!!