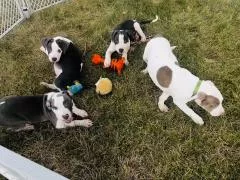 OUR KIX CRITTER OF THE WEEK ARE ACTUALLY CRITTERS, FOUR OF THEM!
Jerry, Newman, George and Kramer came to the ARL as part of a neglect case.
They are 4 sweet Pitbull mix puppies that are around 12 weeks old.
Their individual adoption fee, $100.00, that cover their neuters, vaccines, microchips and various other treatments.
If you are interested in any of these sweet pups, stop by the front desk or call 641-753-9046.