Iowa's Best Country, KIX 101.1, Central Office Supply, A division of Minuteman, along with generous employees at Lennox Industries in Marshalltown bring you the Holiday Edition of Pack the Backpack. Six area teachers will be awarded $101 dollars in December.
Winners will be announced on December 3rd, 4th, 10th, 11th, 17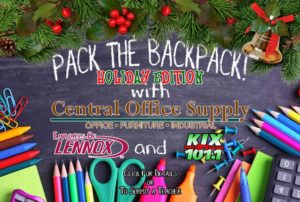 th, 18th at 8:30a on the Morning Kix Start.
Our last winner for the Holiday Edition of Pack the Backpack is Gilbert Intermediate Library Associate, Kiley Sanduka. She was nominated by Bonnie May. Here is the nomination letter:
I am writing to nominate Kiley Sanduka as outstanding teaching professional. Kiley is the Gilbert Intermediate School's library associate. She is driven to build inspiring relationships with students in our building. She recognizes the needs of the children she interacts with. Her innate ability to connect with the many students and all staff as well as her ability to differentiate for the needs of our superior and special needs students is truly a genuine gift. Kiley often uses her own money to purchase books, interactive posters, fidgets, really anything that she sees students needing. It is my honor to teach with such an inspiring teacher.

Thank you for your consideration and recognition of teachers like Kiley.

Sincerely,

Bonnie May, EdD
Gilbert Intermediate
Watch below as we surprised Kiley.
To nominate an area classroom, email backpack@kixweb.com.
Pack the Backpack, Holiday Edition! Presented by employees of Lennox, central Office Supply and Iowa's Best Country, KIX 101.1.