2.4 million dollars. That is how much money was raised by the students at the Univeristy of Iowa Dance Marathon this past weekend. Truthfully, prior to 2009, I probably wouldn't have even noticed. I never really noticed what happened in Iowa City and although I'm sure I had heard of it, I had no clue what Dance Marathon was. But that changed on June 12, 2009. First, lets go back.
I was hired for my first radio job in 1999, and one of the first people I met was a guy named Justin. He had also recently been hired, and with the crazy hours you work in your early radio career, we were in the building at the same time and kind of hit it off. We were both young and trying to make our way in this crazy world of radio. Flash forward a couple years, Justin tells me that there was going to be a new girl at the front desk the next day, and that she was in my wheelhouse and I should ask her out. So the next day I introduce my self to her, she tells me her name is Stacia. My next question was, "so I'm guessing you are Justin's girlfriend?" which of course she was. Little did I know, that these two seemingly random conversations, and moments in my life, would introduce me to two of the most important people I would meet in my life.
Over the course of the next however many years I became good friends with Justin and Stacia. They are truly like family to me. I, of course, attended their wedding; as well as their honeymoon (long story, don't ask). I can still remember the day when Justin came into my studio and told me the big news. He was going to be a father! That following May, Brady was born. I watched as my friends found their way into the world of being a parent, and how that little boy was their whole world. Before too long, I got a phone call…"hey, you wanna be an Uncle again?" Wouldn't ya know it? The next January Colton joined his brother Brady in the world.
Friday June 12, 2009. I showed up to work, and as I normally did, I went into Justin's office to shoot the breeze for a minute or two. Except he wasn't there. I didn't really think much of it, as our schedules had changed, he was in the office during the day, I was around more at night. Then I checked my email. I saw an email from our bosses that Justin had to suddenly take his son to Iowa City, and we would get more updates as info was available. I shot Justin a text, asking how the little man was and if everything was ok. A few hours rolled past and I received a text message that will be with me til the day I die. "they think its cancer." Even as I type that now, I get chills down my spine. Over the next few days I got updates from Justin about what was happening and was going to happen. I wondered then how my friends and their two year old son would get through this.
As time went on, I learned more about Retinoblastoma, the University of Iowa Children's hospital, and how truly lucky my friends were. But I also learned something more. I learned about faith, family, and how mentally strong people can truly be. Working in radio is a very public profession. You are almost always in the public eye and there isn't anyplace you can really hide. You become a part of peoples day and they notice when something is wrong. To his credit, Justin, as well as his wife Stacia, publically were incredibly strong, sharing their positive message, and letting the world know that their family would not be beaten by this. But on a one on one level, you could see their fears, their concerns, the wear it was putting on them worrying about their son.
Flash forward, the words everyone that knows this family wanted to hear came to be. "Colton is Cancer free!" Obviously, the challenges still were present, but one of the biggest obstacles was overcome. Regular trips to Iowa City were, and still are, quite normal. But on one of those trips, a new challenge arose. Brady, the older brother, had his own set of challenges. He was unable to gain weight and was constantly kind of run down. After some thorough work from the doctors at the Children's Hospital, Brady was diagnosed as being a Type 1 diabetic. Yet again the doctors made this young family stronger, and made their future brighter.
Once Brady and Colton became apart of the Univeristy of Iowa Children's Hospital family, they became a part of the yearly Dance Marathon, a 24 hour celebration of life, the hospital, and the families from the Oncology Department they are able to help. Each year I make a donation to Dance Marathon. Its never much, its usually about all I can afford. The things the money raised at Dance Marathon go for are truly unbelieveable. One of those things is the new Children's Hospital that is scheduled to open this summer, thanks in part to a $2.2 million dollar donation over 5 years from Dance Marathon. It's a state of the art facility that by all accounts is "unreal." I do my best to make that donation every year to help in whatever small way I can, and because I really don't know any other way to thank the people of the University of Iowa Children's Hospital for what they have done for my friends, for my family.
I give because my buddy Brady's life has been made immeasureably better by the Hospital.
I give because my buddy Colton's life was SAVED by the hospital.
I give because my friends Justin and Stacia now have FOUR beautiful, exciteable, healthy, troublemaking children.
This is Brady following in his dad's footsteps….
Here is Colton's story in photos….
and this is the boys with their two little sisters Kinley and Hannah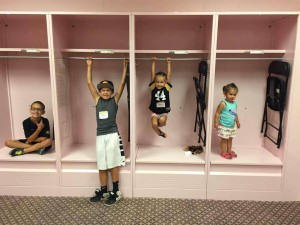 Never did I believe that meeting a random guy at a radio station would have such an impact on my life. As I'm sure you can imagine, I give him unending grief. I give him a hard time about pretty much everything, its kind of my nature. But I have told him before, and I'll say it again here. Justin is one of the best men I know. I don't know if I would be able to handle even a percentage of what him and Stacia have been through, nevermind it doing with such class. Justin and his family have taught me more about life than anyone could ever imagine, and I'll never be able to thank them enough.