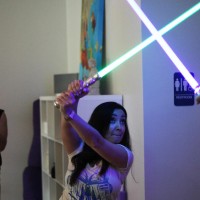 Good Morning Kix Country!
I had a lot of fun in the Kix studio this morning. Well, my job is fun everyday, but today was especially fun because of some of the topics that we discussed and shared.
First off, The Rock Clock. Dwayne "The Rock" Johnson has put out a phone app that is a motivational alarm clock. I downloaded and installed it yesterday and was super excited about it. This morning it went off and woke me up as intended, but then I could NOT figure out how to shut the stupid thing off. I could have sworn that I tapped or swiped every part of that app, but the thing just kept barking at me! After a few struggling sleepy minutes at 3am, I just uninstalled the darn thing until I could figure out what happened.  I got in here and LeRoy of course was able to get it to turn off right away. Maybe I should try it again. It was fun anyway.
Then we talked about my time at the YMCA-YWCA in Marshalltown. I worked with my trainer yesterday and he surprised me by keeping me on the treadmill for my workout instead of doing the plyometrics that we have been doing during our time. It was good though. I did 2 miles in 30 minutes. That is a pretty good time for me and it means I am getting closer to what I need to be able to do before the Ridge Run coming up on June 16th. It is time to buckle down and really hit it hard.
Finally, I got to geek out on a new fitness trend from Magic City Jedi: Light Saber Training!!! That's right! These fine folks have combined dance, yoga, and combat styles into a great fun workout. They also throw in a little sci-fi lore to keep you engaged in the process. It looks like fun!
Have a really great day!