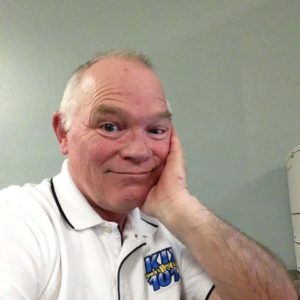 The Ken Fields Show
Ken Fields has over 35 experienced years in radio, and worked with many radio markets on the east coast, until coming to Iowa 10 or more years ago, eventually settling into his current position with KIX 101.1 as host of "The Ken Fields Show", Saturdays on Iowa's Best Country, KIX 101.1.
Ken started his part time radio career as a teenager back in 1982, with his first radio station job on WJJF-AM and WPJB-FM in Rhode Island, announcing weekend news, sports, and weather reports, and typical studio operations and programming. In addition to his duties there, he went with another station owned by the same company, for WBMW FM in Connecticut, as acting morning show producer, and behind the scenes work.
He later left there and took on a new position with WWRX-FM, hosting a Saturday night top 40 music program called "The Saturday Night Party Thaanngg" and eventually became a popular radio personality there, holding that position for a few years until the station changed formats and went to all news/sports.
In between being busy with radio and life, he found time to attend The Connecticut School of Broadcasting, majoring in radio/TV announcing, and local newscast writing, and also took additional journalism courses at Mitchell College, to simply hone his skills, earning a degree in Broadcast Journalism.
He had also worked at many other Citadel owned radio stations with many different formats, all of them planted in one large building in later years in Connecticut, such as WQGN FM, WSUB-980 AM, WVVE-FM 102.3 Oldies, and later Rock 102.3 FM Classic Rock, with a variety of positions to include being a weekend DJ, Weekend news and sports reporter, talk show host fill in, as well as board operations, and Assistant Station Engineer, and even had a brief stint performing as one of the stations Mascot "Q-Bear" at radio remotes, (because the heavy bear suit fit him so well!) When asked what his favorite music format was, he really loved doing the oldies gig, but enjoyed them all!
Back in the early 90's, he was selected to emcee a very large Fourth of July parade in Groton, Connecticut, an honor he will never, ever forget.
Often caustic, irascible, and a touch of sarcasm thrown in kind of kid during his formidable years, (and well,, still IS up to this day), Ken was born in New London, Ct, and through his many years, enjoys a variety of hobbies, like professional voice-over acting, providing various voice work for OSHA safety videos, to children's read-along books, as well as those really annoying on-hold messages you might encounter while stuck on hold waiting for someone to answer your call, to a small variety of other voice projects.  
He also served honorably for six years in the Connecticut Army National Guard from 1981 until 1986.
He is also married to his high school sweetheart for almost 40 years, Rose.
Name: Ken Fields
Born: September 28th, 1960
Age: Do the math!
Siblings: One brother
Pets: One ankle biter and two cats
Started at KFJB/KIX 101.1: Jan 2008
One thing I could not live without: Good honest friends!
Worst job ever: Meat Packing
Favorite TV Show: M*A*S*H
If you weren't in radio, what would you be? In a fetal position sucking my thumb.
Favorite Vacation Spot: My private office
Guilty Pleasure: Spending money
Name one bad habit: Drinking a lot of coffee!
Biggest Pet Peeve: Talking about myself here…..
What was one of your most memorable radio moments: Doing a "MADD" demonstration to show the bad effects of drunk driving with local police in the studios and I got totally drunk doing my radio show. Didn't end well physically, but certainly proved the point!
Favorite food: Oh God, so many of them, so little space to write…
What movie do you have to watch if you see it on TV: Blazing Saddles
Coke or Pepsi?: Both
Favorite song: Oh Lord, It's Hard To Be Humble
If you could meet one person, who would it be: Someone who really understands me and does not judge!
Celebrity Crushes: Singer Amira Willighagen with her angelic voice. I can listen to her for hours!
Favorite Month Of The Year: May
Is the glass half full or half empty?: Better not be!
Dream car: Maserati GT Convertable
The world would not be the same without what? Me and my caustic and sarcastic wit!