Iowa's Best Country, KIX 101.1, Central Office Supply, A division of Minuteman, along with generous employees at Lennox Industries in Marshalltown bring you the Holiday Edition of Pack the Backpack. Six area teachers will be awarded $101 dollars in December.
Winners will be announced on December 3rd, 4th, 10th, 11th, 17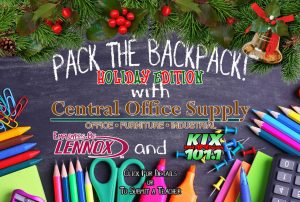 th, 18th at 8:30a on the Morning Kix Start.
Our fifth winner for the Holiday Edition of Pack the Backpack is 1st grade teacher at Blakesburg Elementary, Michelle Erbs. She was nominated by her boyfriend, Ryan Smithart. Here is the nomination letter:
Good Afternoon KIX Country,

I'm emailing today on behalf of my girlfriend, Michelle Erbs. Michelle is a 1st Grade teacher at Blakesburg Elementary in the EBF school district. Some of many items that she has to buy for her classroom are listed below. I wanted to reach out to you guys because I heard about it on the radio and I see first-hand from her the struggle she has buying materials for her classroom on top of living expenses and paying off student loans for her Early Childhood Development degree. She does it though without a second thought as she enjoys teaching and the growth of her students.

Books
Sit-spots
Decorations
Writing materials

Thanks,
Ryan Smithart
Listen below to my interview with Michelle.
To nominate an area classroom, email backpack@kixweb.com.
Pack the Backpack, Holiday Edition! Presented by employees of Lennox, central Office Supply and Iowa's Best Country, KIX 101.1.