Ed Ohrt shares about the event to honor his son, Noah.
Noah was  diagnosed at  15 with Ewing Sarcoma,  a very aggressive primary form of bone cancer and can be in the bone or soft tissue. Noah became an Angel at 17, on March 8, 2014.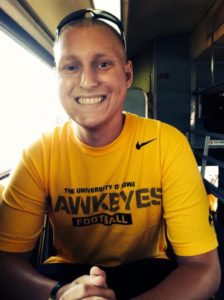 Noah's Love 3rd Childhood Cancer Fundraiser is Saturday, November 6,  at the Lincoln Amvet Hall, in  Lincoln from 4:30 p.m. to midnight.
The meal  begins at 6:30 with pulled pork sandwiches smoked by John Shouse, cheesy potatoes, beans, Leah Cupcakes, bars, cookies and drink. Live entertainment provided by the Craig Gerdes Band.
Some of the silent auction items: Boone and Scenic Valley Railroad tickets, Field of Dreams items, 2017 Team of Dreams autographed bat signed by celebrities, numerous gift certificates, baskets, John Deere collector items, Beck's Children's Wagon, National Balloon Classic Admission tickets, Omaha Zoo tickets, U.S. Official Olympic items, Finkbine golf course passes, Iowa Barnstormers tickets, an Iowa Hawkeyes Autographed Football and other Hawkeye items, an ISU autographed football and items, a UNI autographed basketball and items, pies from The Pie Lady, food items, Iowa Cubs tickets, items from Rex Nekola, Norton's Greenhouse items, many craft items, several beautiful quilts and one with matching pillowcase, Seven Oaks Recreation passes, CrawDaddy Outdoors certificate, Lost Island Waterpark tickets, Greater Des Moines Botanical Garden tickets. DeWalt compact worksite radio, The Farm Stand/Becky Bobier cookbooks, National Farm Toy Museum tickets, Noah's Love t-shirts, a framed 1959 Chevy Apache 3100 drawing by Jack Lavern Tompkins and many other items.
Last year's event was unfortunately canceled twice due to the pandemic. Ed said he would honor tickets purchased for last year's fundraiser.