What a great event we have with Pack the Backpack, presented by Central Office Supply, a division of Minuteman and Kix 101.1! Each month during the school year, we will be awarding $101 to a Kix Country classroom to help out with supplies. We will award the prize on the last Wednesday of the month. You can listen to each new winner at 8:30a on the Morning Kix Start.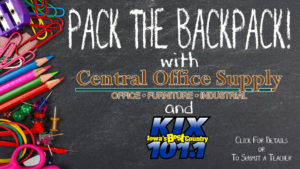 Our April winner is Pre-School teacher in Oskaloosa, Mrs. Trisha Voss. Trisha was nominated by her sister-in-law, Jessica Goodwin. Below is the nomination letter:
My name is Jessica Goodwin and I would like to nominate Trisha Voss for the Pack A Backpack. She is one of the preschool teachers in Oskaloosa and she is also my sister-in-law. Her husband Cole has a very rare muscle disease (that I cannot remeber the name of) and he is currently in hospice and doesnt have much longer to live. They are both in their 30s and life just isnt being fair. They have 2 sons together Ayden and Kayleb ages 11 and 12 years old. I would love to help oit in their time of need and with her being a teacher I thought this was a great time to help. In her classroom she needs craft supplies, crayons, glue sticks, and a new kitchen set for the kids to learn. Her mind is so full right now during this stressful time, she deserves it.

Thank you in advance.

Jessica Goodwin.
Nominate your Kix Country class by submitting a letter to us at backpack@kixweb.com.