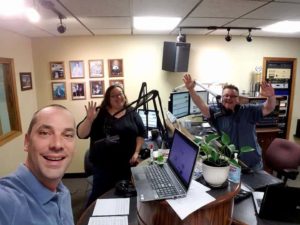 On Friday, September 15th the Morning KIX Start hosted a 30th Anniversary Special. Jonathan Knight & Melia Jeanne welcomed back to the show former longtime co-host & current KIX General Manager Todd Collins. Together they shared old memories, commercials, interviews with old air personalities & great music from the past 30 years. We want to take this time to say thank you for listening and sharing part of your life each day with us. KIX 101.1 hopes you had fun walking down memory lane with us.
Thanks to our sponsors
City Power Sports, Zylstra Harley Davidson, Hinegardner's Orchard, Ben's Tire & Automotive, Twin Anchors RV Sales & Service, Phelps Implement, Black Tire Bike Company, Cappy's Tire & Auto Service, Wilcox Equipment, McAtee Tire & Service Center, Thys Chevrolet, Hometown Foods, Independent Insurance, Diamond Vogel Decorating Center, Hardin County Savings Bank, Farmer's Savings Bank, Iowa Beef Industry Council & Taylor's Maid-Rite.
Click on some memories from the 30th Anniversary Special.