Good Morning Kix Country!
It is Iowa State Fair time! I am excited for my second year at the fair and even more excited about tomorrow. Not only is it my first day out there for this season, it is also the day that the Best Burger in Iowa is going to be available at the Cattlemen's Quarters there at the fairgrounds. In between The Morning Kix Start and hanging out at the Kix Cabin, I will be stopping by the Cattlemen's Quarters and trying out the Best Burger in Iowa from the Chuckwagon Restaurant in Adair. It is going to be available for one day only and that day is tomorrow. The burger will be served after 10am and I will be there around 12:30pm. Stop by and say hi as I will be talking with the Cattlemen and trying out this delicious burger.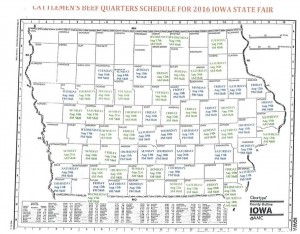 Come and see me tomorrow and Have a great day!