"I don't listen to radio".  I've had this conversation happen a few times in the past two weeks.  Here is a compilation of those conversations into a single scenario.
I was talking with an individual…let's call him Steve (the names have been changed to protect the innocent) about advertising his business using radio.  In particular using our two radio stations, Iowa's Best Country, KIX 101.1 and News Talk 1230 KFJB to advertise his business.  Steve's response was "I don't listen to radio.  I only listen to satellite radio."
Now, that is NOT the first time I have heard that statement but I really didn't say anything.  I just let him keep talking.  And sure enough what usually happens, happened.  Steve continued, "I mean, I do know about your stations.  My work truck does not have satellite radio so I do listen to regular radio when I'm in it.  (Which he is in a lot) And I do listen to the local weather, and I do like listening to the Iowa State Games." (KIX 101.1 carries the Iowa State Cyclones).
SO, we went from "I don't listen to radio" to finding out he DOES listen to the radio and he could even name specific programming he listened to.  I hear that statement every now and then but as the conversation goes on it turns out that people do listen at work.  Or they listen in the tractor.  Or they listen in the garage and that list goes on.
I did tell Steve that according to recent surveys and information radio reaches 93% of adults on a weekly basis.  That's HIGHER than any other medium!  (SOURCE: Nielsen)
In fact here's an excerpt of those findings:  Nielsen recently released its Audio Today 2018 report. According to the report, radio reaches 93% of adults on a weekly basis.TV reaches 88% and smartphones reach 83%.  95% of Millennial's are reached by radio each month. That number grows to 97% of Gen-Xers and 98% of Boomers.   (Wanna see a big cool picture of the above findings?  You'll find it at the bottom of this page.)
I also told Steve that we could grab a 12 pack of beer, sit down and I could go on and on and on about radio and the misconceptions.  He laughed and we moved on.  (FYI, in my head I was serious!  Some people have a few to many beers and they wanna start a fight…I wanna talk about radio!
One of Steve's other comments was "I only listen to Satellite radio".  Well good news, Satellite radio IS radio.  It's a little different (terrestrial VS satellite) but the concept is the same.  An AUDIO platform that people listen to for the consumption of music, news, entertainment, etc.  That goes for podcasting and audio music streaming services.  More and more people are spending time with AUDIO and out of all those audio platforms RADIO IS KING!
Stand by for more stats:  (SOURCE: Nielsen)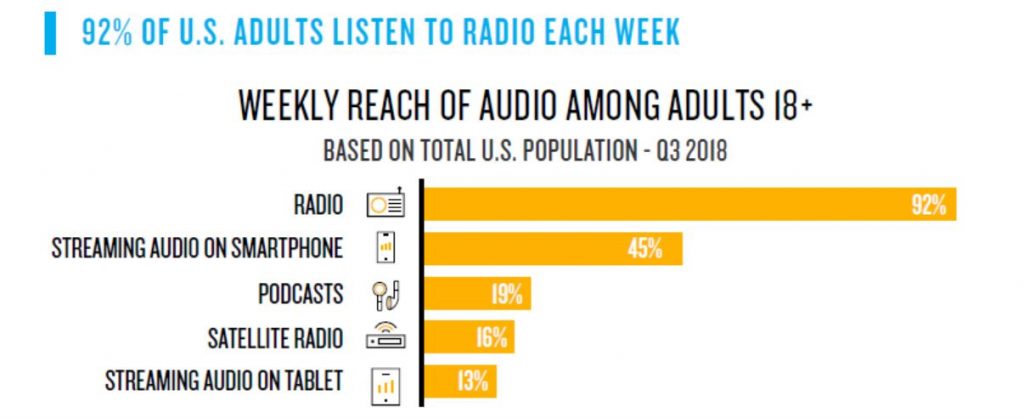 Hold onto your earbuds for this one!  Radio is EVERYWHERE.  For example, you can listen to Iowa's Best Country, KIX 101.1 and News Talk 1230 KFJB….wait for it….on a radio.  BUT, you can also listen on your computer!  You can hear KIX 101.1 on the KIX App on your smart phone OR you can even hear it via your Amazon Alexa.  In fact Alexa is such a great product for radio to be on.  It's an audio based platform that is bringing radios back into homes.  Let's be honest, how many radios will you find in the average home?  MAYBE one or two?  BUT, smart speakers are rapidly growing and with it is the listenership of terrestrial radio signals on a digital platform.  In fact, Country Superstar Garth Brooks had some things to say about radio and Alexa.  Variety quoted some of what Garth Brooks said on a panel at CRS. "If we had Alexa when George Strait's first album came out, I'd have worn that lady out." "Terrestrial radio is an 800-pound gorilla that ain't going nowhere." He said radio is always where fans will come to discover new music. Brooks went on to say what he loves about both radio — and digital. "I love the fact that this isn't an either/or thing. I can hear it on terrestrial radio, and I can wear it out on streaming. To me that's the true partnership here."
Stick with me!  I'm just about done and will get off my soap box in a few more paragraphs!
On July 19th 2018 downtown Marshalltown Iowa was hit by and EF3 tornado.  In fact the stations of KIX 101.1 and 1230 KFJB were smack in the middle of it when that tornado hit.  (If you want to hear audio of both stations on the air when it hit listen to the audio below).
After the tornado went through MANY local businesses were hit hard.  Either their roofs were ripped off or all of their windows were blown out OR the building where their business was located was destroyed.  We were contacted by many downtown businesses telling us they needed to tell people that they were still open.  Our LOCAL radio stations were able to do that.  In fact I felt it so important to make sure people continued to frequent these downtown businesses I recorded and we played on-air this 90 second editorial on both KIX 101.1 and 1230 KFJB.  The point to this is that people listened.  We got great feedback and people remembered to shop local!  LOCAL Media gave LOCAL business owners a voice to talk to people LOCALLY.  (see a trend forming here?)
Not to get off course from my whole point but following that editorial about shopping local I started thinking about how important it is for LOCAL businesses to use LOCAL media to advertise.  Take 90 more seconds and listen to this:
OK, let me wrap this up because our attention spans are about as long as a number 2 pencil after taking the SAT test.  Most everyone listens to radio!  The stats prove it!  It is such a convenient medium that we can literally listen to it anywhere in so many ways that sometimes we don't even know we are consuming it.  But I am…and YOU are.  So enjoy this amazing audio platform that brings you the music, news, sports, entertainment, and more that you maybe didn't even know that you listen to.  (Which you DO!)
-Todd Steinkamp
Owner/General Manager
Trending Media, Inc
Here is that pretty graphic I referenced above from Nielsen.