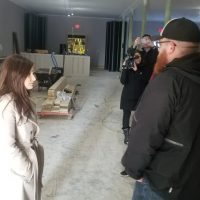 Iowa's First District Congresswoman spent part of her Sunday in Marshalltown, getting an update on the community's recovery from the tornado.
Abby Finkenauer stopped by the work in progress rebuilding Black Tire Bike Shop and also visited with some home owners still struggling post tornado.
Finkenauer said it was important for her to be in Marshalltown.
Another of her concerns is the partial federal government shutdown. She said it was interesting being sworn in to office knowing that one quarter of the government was shut down, adding three thousand Iowan's are either furloughed or working without pay.