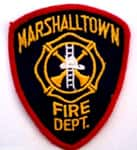 Good Morning Kix Country!
Last week was the first week of the Marshalltown Fire Department Citizen's Academy and I had a blast learning about the proper way to wear my gear, how to safely search a burning structure and just how sweaty a human body can get. It was a warm night.
Tonight is the second night of the academy and I am told that it will not be quite as challenging as the first night. Tonight we are going to work with hoses and learn how to hook one to the truck or to a hydrant. We will also be going over how to take a hose up to the second floor of a building. I am really looking forward to learning more about the impressive work that these men and women do on a daily basis.
The neat thing about this year's academy is that the public is invited to watch. We will be at the fire station in Marshalltown from 6 to 8 pm today. If you would like to come see what it is all about, please stop by.
Have a great day!