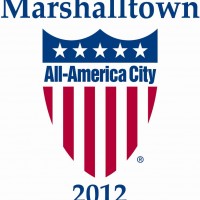 (City of Marshalltown, Police Dept Media Release): On Sunday May 8, 2016 the Marshalltown Police Department with the assistance of the Marshall County Sheriff's Department began an investigation into the burglaries of the Compost Facility Office as well as buildings used by the Marshalltown Sewer Department located at 901 Woodland St. During this incident several city vehicles were driven and damaged as well as city and personal property stolen.
On May 11, 2016 the Police Department sent out a Media Release asking for the public's help in identifying the suspects involved. A Crime Stoppers tip in mid May provided a lead in the investigation. On May 26, 2016 Detectives and Crime Scene Tech with the Marshalltown Police Department, with the assistance of the Mid Iowa Drug Task Force and Marshall County Sheriff's Department executed search warrants at residences both in Marshalltown and Rhodes where stolen property was recovered from the burglaries.
At the time of the execution of the search warrants, one of the juvenile suspects was located and taken into custody. The juvenile was transported to the police department with a parent for an interview with a detective. During this interview it was learned that this juvenile was responsible for two other burglaries to the Compost facility one in 2014 and another in 2015.
After the interview the juvenile was arrested and transported to the Juvenile Detention Facility in Eldora.
As the investigation continued the identity of the two remaining suspects were revealed. On June 29th a second juvenile was arrested and charged for his part in the burglary on May 8th.
On Tuesday July 12th the third suspect and his parents came to the police department to be interviewed by the investigating detective. Today Wednesday July 13th this juvenile was arrested and charged for his participation in the March 2015 incident.
All three juveniles were charged with Burglary 3rd Degree, Theft 2nd Degree and Criminal Mischief 1st Degree. The case is now being handled by the Marshall County Attorney's Office and Juvenile Court Services. Under Iowa Law, due to the age of the juvenile suspects involved, their names and ages are not being released.
The Marshalltown Police Department would like to thank the following agencies for their assistance with this investigation, Marshall County Sheriff's Department, State Center Police Department and Mid Iowa Drug Task Force, and Marshall County Crime Stoppers program. Questions regarding this Media Release may be directed to Captain Michael J. Hanken at 641.754.5730 or by email at mhanken@ci.marshalltown.ia.us.
(A
criminal
charge
is
merely
an
accusation
and
the
defendant
is
presumed
innocent
until
and
unless
proven
guilty.)