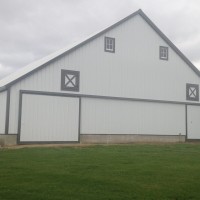 I had heard about the Lighthouse Opry for several years since I get info for country shows in the area, but it was not until I found out that Marcia Burgess worked with my husband did I finally have a reason to find out more about this place. I remember my first night attending the Lighthouse Opry, it was actually shortly after Marcia's father had passed, what a special place it is.

 The house band, The Prairie Lightning Band is comprised of some super talented musicians!
 If you are missing the sound of classic country you must experience The Lighthouse Opry. It is the 3rd Saturday of every month April-October. Each month there is a special guest who is invited. I have seen pictures of Iowa's own, Neil Hewitt, performing on the Lighthouse Opry stage.
It was Denny Burgess' idea to start the opry. He asked his father-in-law over dinner one night, you see Denny had always had a dream of having a place to play country music. It was decided he could under three conditions… No Smoking, No Alcohol and he, Marcia's dad  would have to do NOTHING! Since that time now eleven years Marcia does the work to get the Lighthouse Opry Barn ready every month.  Did I mention there is food!?! It's a free-will offering and don't forget your lawn chairs. Music starts at 6 pm and goes until 10 pm!! 
Discover for yourself this jewel, just 2 miles north and 2 miles east of Gilman!