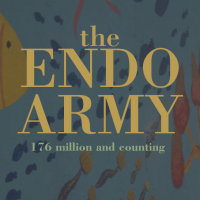 Good Morning Kix Country!
Usually our blog posts are about something we talked about today. And while we did cover some great stuff on The Morning Kix Start this morning, I would like to take this opportunity to talk about tomorrow's show.
Joining us in the studio tomorrow is a local woman who has taken on a very personal and important mission. Her name is Moon Chaplin and she is making a documentary about endometriosis. It is a condition that affects millions of women around the world and is often under treated and under diagnosed.
She and filmmaker Bo Becker will be joining us at 7:45 tomorrow to tell us more about endometriosis and about the incredible journey of making this documentary. It should be a very interesting talk and we hope you will join us to hear more about it. If you would like to get a head start on the information you can visit their Facebook page to read some of the stories that will be shared in the film.
Have a great day. I will talk to you in the morning!