Thanks Ashton! 

New drum arrives at Woodbury 

after actor's donation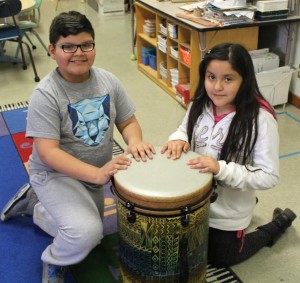 Woodbury Elementary School fourth graders Daniel Corona and Destiny Perez are pictured with the new Tubano drum at the school. It was purchased via a donation made to Iowa schools from actor and Iowa native Ashton Kutcher.
Hollywood actor Ashton Kutcher has not forgotten his Iowa roots, which is a good thing for students at Woodbury Elementary School in Marshalltown.
Kutcher announced recently he was funding 131 Iowa school projects listed on the donation website DonorsChoose.org. On that list was the request of a $300 Tubano drum from Woodbury music teacher Sarah Wherry. Wherry originally thought it was a hoax when she received the notification her request had been funded.
"It's super cool," she said.
Wherry received the African percussion instrument this week and it's already in use in her teaching of world music at the school. The reaction from the students has been positive.
"They're pretty excited," Wherry said.
In a video released online, Kutcher said his teachers made him who he is today so he wanted to support classrooms in Iowa. Many celebrities donated to schools across the country through DonorsChoose.org earlier this month in what they called #BestSchoolDay.