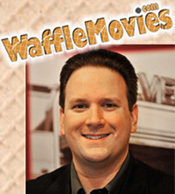 Willie Waffle is the movie critic for people who hate movie critics
and he joins LeRoy and Melia every Friday morning
about 7:50a.m. to talk about the new movies opening up that weekend.
Over the past 10 years, he has emerged as one of the liveliest,
no holds barred movie critics in America.
He is the author of
"Back Shelf Beauties: Movies You Should Rent When The New Stuff Is Gone"
To find out if the movie you want to see is worth your hard earned money,
CLICK HERE TO GET WILLIE'S REVIEWS!