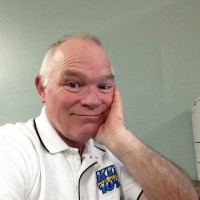 Name:  Ken Fields
Age: "Old Enough!!!"
Hometown:  Mystic, Connecticut
Brothers/Sisters:  One brother. (I'm the baby. Gotta love me!)
Pets:  One dog, and my daughter's cat who thinks I'm its master!
When did you start at KIX 101.1:  2008
One thing you could not live without:  Being totally sarcastic! It's my way of showing somebody I love them (all in a good Christian way!)
Worst job ever:  A Food Processing Plant! Yuck!
What is your favorite TV Show:  I have many, but I guess, American Dad.
If you weren't in radio, what would you be:  "In a fetal position rocking my body, and sucking my thumb!"
Favorite vacation spot:  My office (never been there, and not really sure where it is…hmmm!)
Guilty pleasure:  Spending money!
Name one bad habit you wish you could break:  Being a complete Moron. (I'm pretty good at it!)
Biggest pet peeve:  Filling out web bios! I hate talking about myself! (not really ; !!)
What was one of your most memorable radio moments:  When I decided to talk on it!
Favorite food:  Pizza and ribs! I mean really… are there any other choices?
What movie do you HAVE to watch if you see it on TV:  Any of them, unless they totally bore me to tears!
Coke or Pepsi:  Coors!
Favorite song:  T-Shirt by Thomas Rhett.
If you could meet one person, who would it be:  Guglielmo Marconi, the one who invented radio!
What phrase do others say you use too much:  "Really???"
Celebrity crushes:  Sara Evans, Patricia Heaton, Leah Remini, and Fran Dreshner!.
Favorite month of the year?  May (my wedding anniversary)
Is the glass half-full or half empty:  Ahh, yeah, it better not be!
Dream Car:  Camaro
Favorite websites:  Facebook, KIXWEB, Twitter.
The world would not be the same without what:  Me, of course!